2021 Colors of OKC Projects
For the 2020-2021 Teen Arts Council annual project members studied color theory and the role it plays in art and community. By using their own research photos from around OKC and a variety of tools from Google Arts & Culture, each student created a body of research materials and selected a color palette that represents OKC to them. Building on this research and variety of activities throughout the year, TAC members have created original works that incorporated their unique color palette.
My name is Sophia Dykstra, and I am an aspiring illustrator and animator. My main mediums are watercolor and colored pencil. For me, art is not only an outlet to express myself—it is a medium through which I can meet other artists who bring passion and inspiration into everything that they do.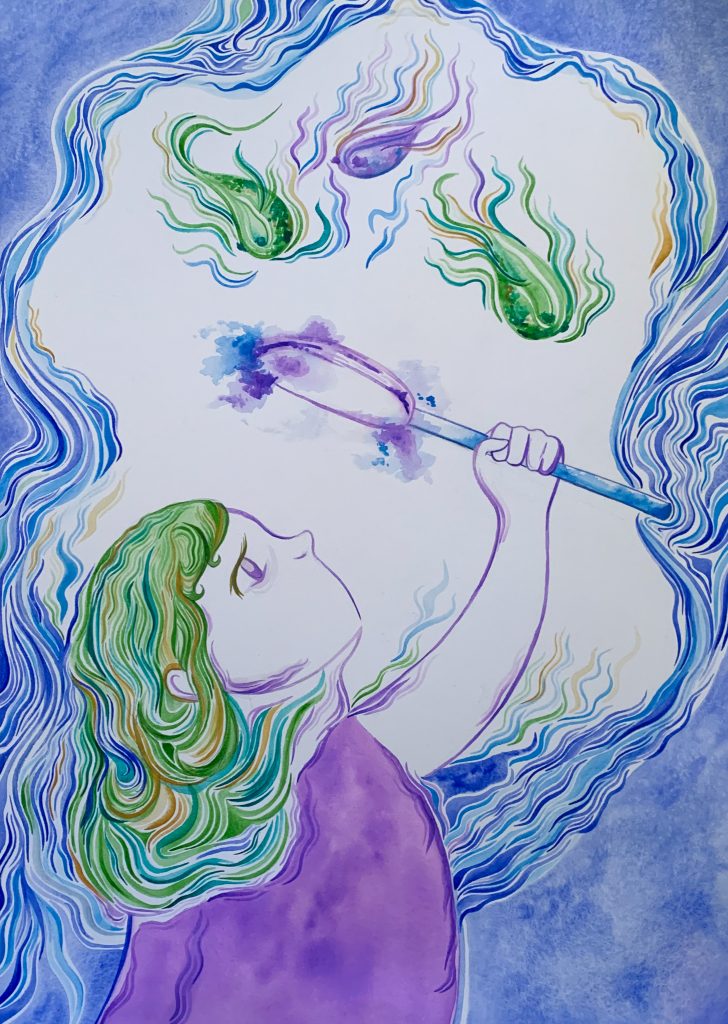 I am Emma Callahan, an 18 year old artist living in Oklahoma City. I create art primarily through painting and drawing. My art tends to focus on metaphorical representations and portraiture.
The song I've created is intended to be an embodiment of the 5 colors I've chosen, (light blue, light green, gray, blue, and green), in the composition, accompaniment and prose. I tried my best to personify these colors, and incorporate the idea of these colors into how the piece sounds. I hope listeners can enjoy a good piece of music as well as discover what these colors mean, and how they represent OKC. (Song written and performed by Seth McIntyre)
What is the Teen Arts Council (TAC)?
Arts Council OKC's Teen Arts Council is an initiative of our All Access Arts program. Its mission is to bring the arts and teens together.
What do TAC members do?
During the school year, TAC members develop leadership skills, participate in workshops, and explore a variety of exhibits, performances, and installations. They are also given volunteer opportunities and behind-the-scenes access to certain arts events. Our goal is to create community-based arts experiences and increase awareness of career opportunities in the arts. TAC meets twice a month, starting in October and ending in May, with an annual arts advocacy project or collaborative exhibit designed and implemented by council members.
What are the benefits?
Participation in Arts Council OKC's Teen Arts Council opens many doors. TAC members get to interact with working artists and other professionals within the OKC arts community and learn about the day-to-day operations of an arts-based organization. They also have opportunities to gain hands-on experience with event planning and operations while volunteering at incredible events like Opening Night and Festival of the Arts, as well as the All Access Arts annual Arts in Schools Showcase. This leadership development and collaborative learning environment also encourages and empowers council members with a skill set crucial for future success, both personally and professionally. Plus, "Teen Arts Council" looks awesome on college applications!
What are the requirements to apply? (All teen artists, no matter the type or genre, are welcome to apply)
Applicants must:
Be14-18 years old
Be enrolled in an Oklahoma County school
Be enrolled in the current school year
Be able to consistently use a computer or mobile device with internet access
Commit to completion of collaborative project tasks as assigned 
Teen Arts Council in Action