Providing Arts to Our Entire Community
All Access Arts provides visual and performing arts experiences to under-served schools, libraries, parks, and community agencies throughout Oklahoma City. The initiatives of this program serve approximately 10,000 people annually undertaking the initiative of access to the arts for all.
Arts in Schools
Participatory arts enrichment for OKC students through in-school and after-school programs every year. On average, over 4,000 children across 16 different sites are impacted by this program.
Arts in the Park
A partnership with the City of Oklahoma City Parks and Recreation Department that provides free summer arts classes for children ages 6-12 in parks and recreation centers across the city.
Creative Aging
Weekly arts instruction by professional teaching artists for seniors; including those with dementia, Alzheimer's, and other physical and cognitive challenges.
Neighborhood Arts
A partnership with the Metropolitan Library System that provides free summer arts performances at all 18 libraries across the metro that the entire family can attend.
Teen Arts Council
Arts experiences, education, and volunteering opportunities for Oklahoma's next generation of leaders.
Support All Access Arts
Arts Council Oklahoma City programs and initiatives are made possible through the support of our generous donors.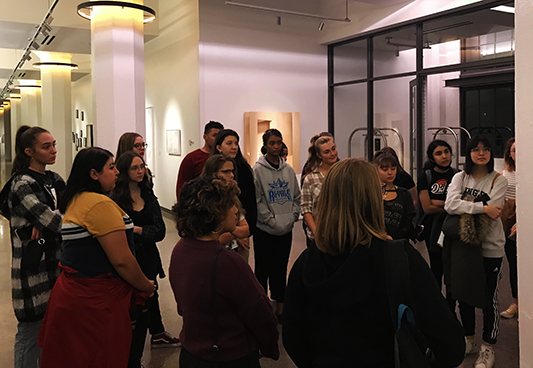 Arts Council Oklahoma City's Teen Arts Council recently visited the 21c Museum Hotel to tour the SEEING NOW exhibit. "This multi-media selection of works by
Read More »

The Arts Partnership for Oklahoma City Public Schools was recently recognized by the MacDowell Club of Allied Arts and awarded a $5,000 scholarship for its
Read More »
What is TAC? Arts Council OKC's Teen Arts Council is an initiative of our All Access Arts program. Its mission is to bring the arts
Read More »