All Access Arts Response to COVID-19
Due to the developing COVID-19 situation, All Access Arts teaching artists have lost access to all Creative Aging sites and Arts in Schools locations have closed. Our current goal is to provide the same quality programming content online using a 3-tiered plan including updated curriculum, online instructional video and discussion, and a variety of supplemental materials and information to help continue learning beyond the initial video lesson. In addition to our online efforts, All Access Arts is working with our teaching artists and contacts at each individual site to utilize any online learning assets or other options available to continue providing the same level and quality of arts education programming.
Arts in Schools Online
Meet our teaching artists, learn some dance moves, and practice a variety of visual art techniques in one of our weekly classes. Instructional video, online resources, supply lists, and more, everything you need to keep a student artist happy.
Creative Aging Online
Weekly online arts instruction by professional teaching artists for seniors; including those with dementia, Alzheimer's, and other physical and cognitive challenges. Get creative again with a video or download the lesson to complete at your own pace.
Teen Arts Council Online Studio
Always looking for a way to stay engaged and active in the arts, Teen Arts Council OKC is working hard to find arts experiences and creative collaboration through a variety of online platforms. Watch for more from the TAC as we finish our year online.
Providing Arts to Our Entire Community
All Access Arts provides visual and performing arts experiences to under-served schools, libraries, parks, and community agencies throughout Oklahoma City. The initiatives of this program serve approximately 10,000 people annually undertaking the initiative of access to the arts for all.
Neighborhood Arts
A partnership with the Metropolitan Library System that provides free summer arts performances at all 18 libraries across the metro that the entire family can attend.
Arts in the Park
A partnership with the City of Oklahoma City Parks and Recreation Department that provides free summer arts classes for children ages 6-12 in parks and recreation centers across the city.
Support AAA
All Access Arts initiatives and other Arts Council Oklahoma City programs that bring the arts and communtiy together are made possible through the support of our generous donors.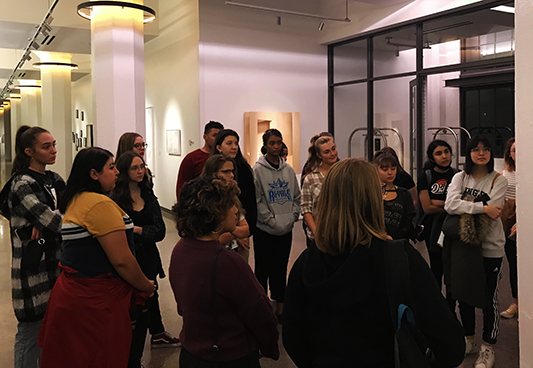 Arts Council Oklahoma City's Teen Arts Council recently visited the 21c Museum Hotel to tour the SEEING NOW exhibit. "This multi-media selection of works by
Read More »

The Arts Partnership for Oklahoma City Public Schools was recently recognized by the MacDowell Club of Allied Arts and awarded a $5,000 scholarship for its
Read More »
What is TAC? Arts Council OKC's Teen Arts Council is an initiative of our All Access Arts program. Its mission is to bring the arts
Read More »