Creative Aging Response to COVID-19
Due to the developing COVID-19 situation, All Access Arts teaching artists have lost access to all Creative Aging sites and Arts in Schools locations have closed. Our current goal is to provide the same quality programming content online using a 3-tiered plan including updated curriculum, online instructional video and discussion, and a variety of supplemental materials and information to help continue learning beyond the initial video lesson. In addition to our online efforts, All Access Arts is working with our teaching artists and contacts at each individual site to utilize any online learning assets or other options available to continue providing the same level and quality of arts education programming.
Weekly Creative Aging Art Lessons
Beginning March 30th, 2020 this website will be the home to our new Creative Aging online lessons. Combining instructional video with updated lesson plans and supplemental resources for the remote classroom, participants of all ages, especially seniors, will have access to professional arts education at no cost, supporting our goal to continue providing access to arts for all. But for now, get to know our artists and their studios through their introduction videos below:
Arts Enrichment and Education
Teaching Artist Sheila Guffey brings extensive experience as a respected arts education provider to senior living facilities throughout the Oklahoma City community. 
Alongside Sheila local artist and educator Leigh Tomlin works to bring classroom and programming support to Creative Aging artists at more than 14 partner sites.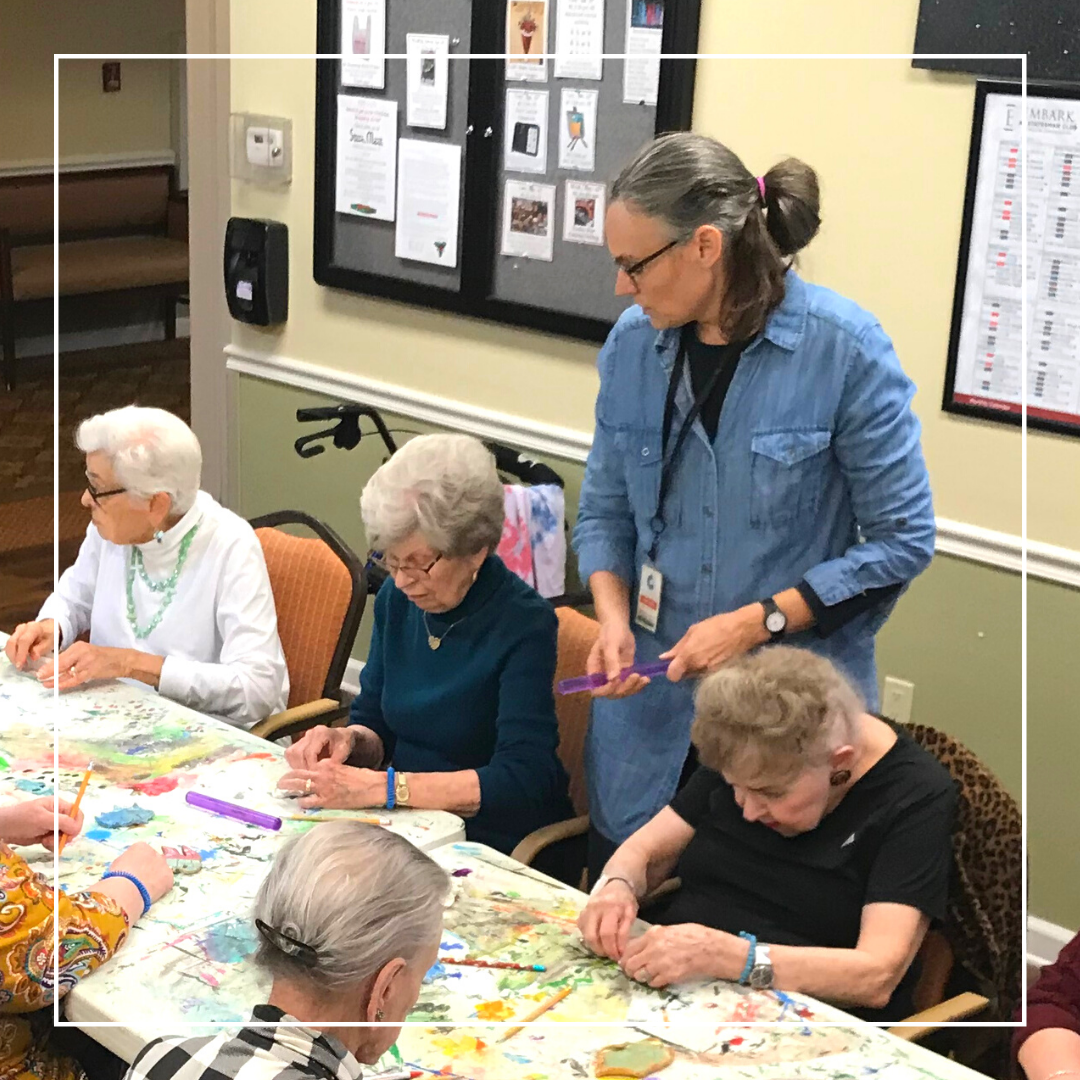 The Creative Aging initiative places professional teaching artists in various senior living facilities across Oklahoma City to provide weekly programming that reaches those with dementia, Alzheimer's, and other physical and cognitive challenges. Classes include different levels of visual arts and creative writing instruction and are designed to make seniors at various stages of their lives feel confident and proud of the work they create.
Rather than crafts, participants in the Creative Aging program learn fine arts techniques and create beautiful artifacts they can proudly display in their rooms or give as gifts to loved ones. The program gives participants time away from the ordinary to socialize with peers and engage in stimulating and enriching activities. It can be therapeutic and is often described as the highlight of the week for many people in assisted living centers.