Arts Council OKC's young professionals' group, the Artisans, gathered August 23 for the Artisans Gallery Crawl. They toured a variety of galleries and art installations along Automobile Alley. The evening, filled with food, drinks, and laughs, proved to be another success for this inspiring group of volunteer arts advocates.
The first stop on the Gallery Crawl was Insight Creative Group (ICG), where the Artisans enjoyed free tacos from Mijos Tacqueria and adult beverages and learned about the incredible design work ICG does for Arts Council OKC throughout the year.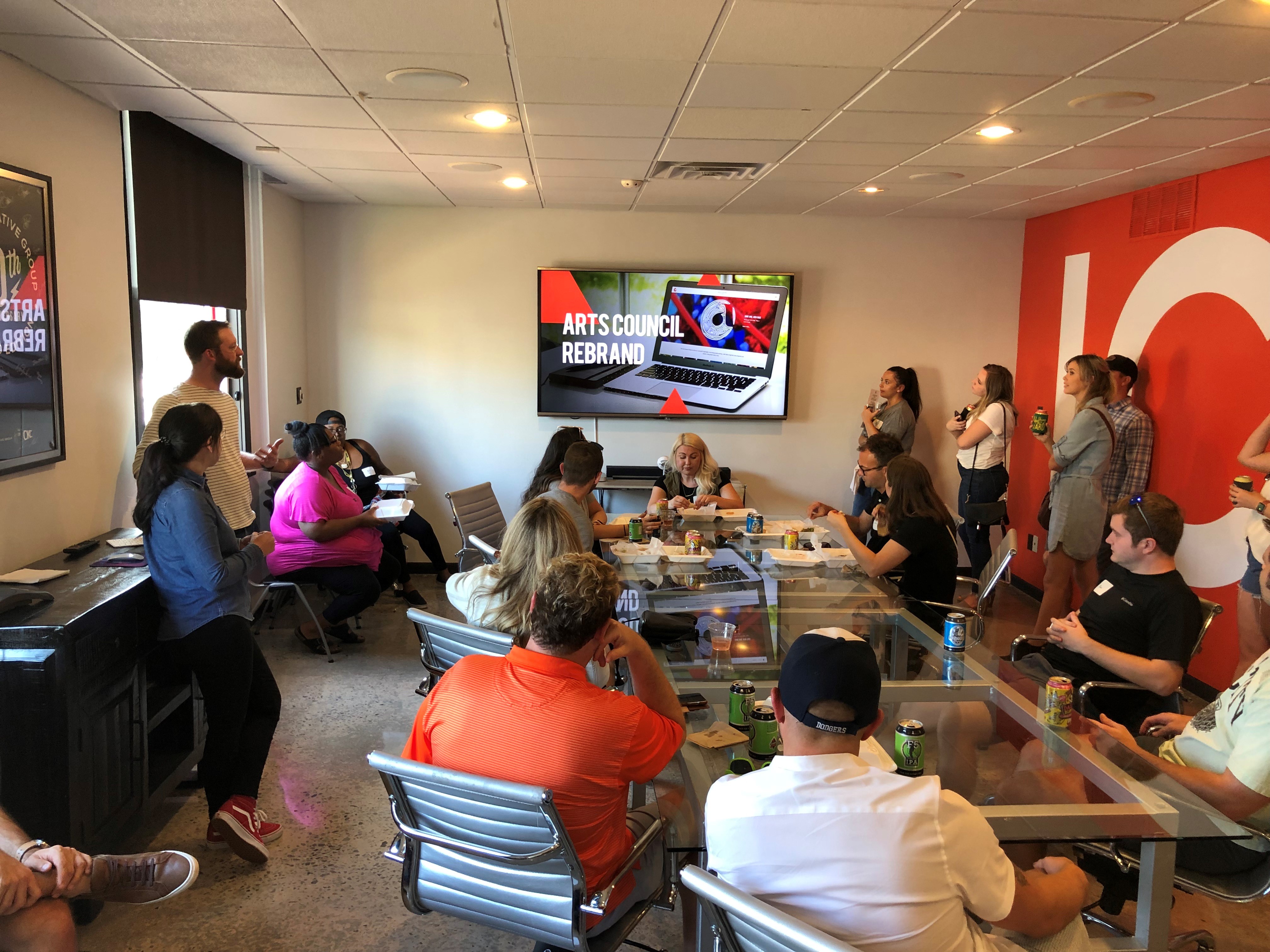 Next up was Factory Obscura, where the Artisans were able to experience the Kings Mouth at Mix-Tape, "an immersive head trip experience by guest artist, The Flaming Lips," along with a discussion with founder Laura Massenat about the future of Factory Obscura.
Artisans then traveled to Oklahoma Contemporary to see the up-and-coming new building and learn about the outdoor murals.
After that, the group walked to the Architectural DNA, a Midtown art installation featuring a salvaged staircase suspended in midair between two buildings, to learn about the history and making of this unusual design. Our guest speaker, Ryan Fogle, was a walking encyclopedia of art, OKC infrastructure, and architecture.  Be sure to check out his tours with Ride OKC!
The evening ended the with a free beer, compliments of Vanessa House, desserts by Mickey Mantle's  Steakhouse and a lively drag show at the brewery!
Artisans is one of the few young professionals' groups in the area that does not require a monetary donation to participate. Its vision is to integrate Artisans into Arts Council Oklahoma City programs and events through volunteerism and arts advocacy. If you're interested in joining the Artisans and connecting with other young professionals who share your love of volunteerism, the arts, and Oklahoma City, visit us online to learn more.