September is a special month. Everyone is settling back into a school or work routine, buying pumpkins and breaking out sweaters because the calendar says it is fall (even though summer heat still lingers in Oklahoma). For us at Arts Council Oklahoma City, September carries unique meaning as National Senior Center Month, when we celebrate the wonderful individuals participating in our Creative Aging program.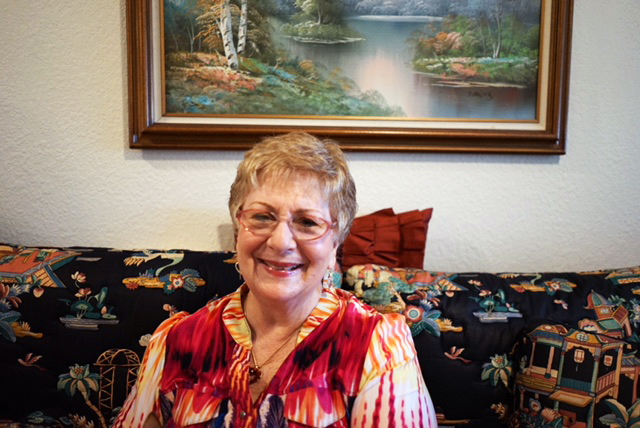 Earlier this week, I sat down with Marilynne and Tim Rusher in their home at Lionwood Independent Living to chat with them about their experience in Creative Aging and how taking an art class together eventually led to marriage.
Marilynne: My first impressions of the class were with Sheila [Creative Aging instructor] and another girl who was here at the time, and they were both wonderful. They help you through the projects whether you know how to do them or not. And for the ones who can't do the projects [because their hand is hurting from arthritis or they have a disability], the teachers will do a part for them, which is nice. It was a very good experience.
The teaching artists are just very pleasant, very patient with us. They share their lives with us, too, so we enjoy that.
I like working with acrylics best but we do chalk, and we do watercolor… I was never good at watercolor–I still don't like it–but it's good to try it, because it makes you better every time you try something.
Tim made a little box with tissue paper and Mod-Podge that we really liked.
I guess my favorite picture that I did was the Statue of Liberty–that was my favorite.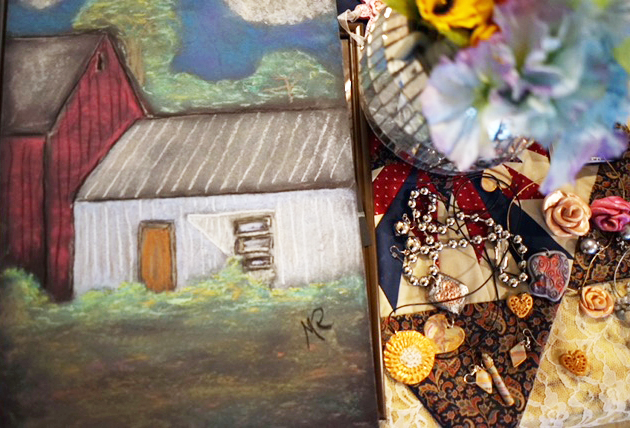 I've given some projects away, but I keep several of them. There was a couple that I didn't like, so I thought, well, I'll give those to someone else.
Tim and I met way before we started taking the Creative Aging class. We saw each other in the foyer when I was waiting for my girlfriend and we got to talking. So I had seen him around while I was living here, but it was more in the art class where we got to know each other better.
Tim: Yeah, they didn't have enough people coming to the art class, so I was padding to get the numbers up.
Marilynne [laughing]: He was kind of lassoed into it and now he's kind of lassoing out!
Tim [smiling]: Well, you just meet somebody and they're pleasant… Gradually they wear on you and wear you down. She finally run me into the ground.
Marilynne: That's right! We attended a lot of the classes together, wouldn't you say?
Tim: Yeah, the plea was that they were going to disband if there weren't enough people interested in it, so they asked me, "Would you come do art?" So I said, "Yeah, I'll come do art, such as it is."
Marilynne: Oh, he's gotten so much better–he's really good. He just doesn't know it. But anyway, we spent time together and then one day after class he asked me to go out to dinner and then it just went from there.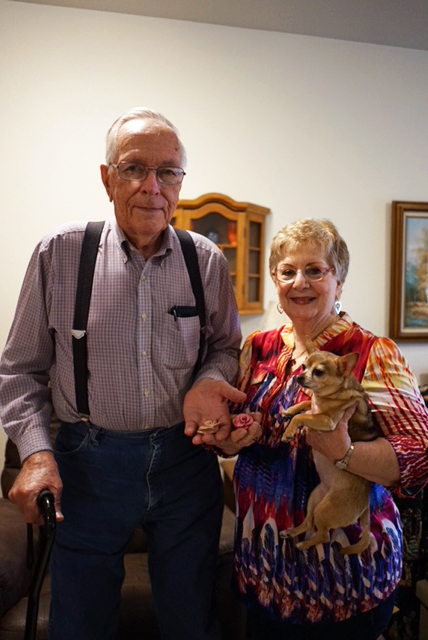 After the interview, Marilynne took me on a tour through her and Tim's home and pointed out all of the framed artwork that she had completed in Creative Aging. She set out a pile of unframed artwork on her dining table, describing what each was made out of and if she liked that particular medium. I asked her about two painted ceramic flowers that she took out of a box with other ceramic and jewelry pieces and she told me that she and Tim had each made one and that Tim's was actually the better one, but he would never admit that.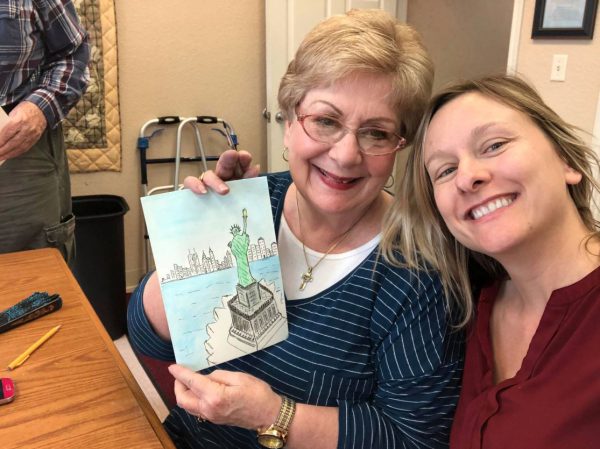 I asked Marilynne what the class means to her and she replied that it gives her a feeling of accomplishment
Marilynne: You know, when you do a project, even it doesn't come out great, you've created something. It's a very worthwhile program and it helps a lot of people, I hope it continues.
I spoke to Sheila Guffey, the teaching artist that works with Marilynne and Tim, shortly after our interview to hear about her experience with the couple.
Sheila: Marilynne has never missed a class since she moved to Lionwood. She is eager to learn and always excited about and grateful for the art class. She is extremely caring, social, and encourages others to be creative. She has been an advocate for our classes and the program, promoting it to others in the facility. She asked Tim to join the classes and he became a regular for us, too. He always made something for Marilynne, which was sweet. We had no idea they were dating until maybe six months later when Marilynne came to class with a ring on her finger!
Sheila told me the purpose of the program is for individuals to socialize and have fun, but more importantly to create art that gives them a sense of pride and to let go of the stress that aging brings. Marilynne and Tim are certainly proof that these can be accomplished, and sometimes something else just as sweet.
We wish the newlyweds all the best and hope they continue to fill their walls with art!
Click here to learn more about Creative Aging, an All Access Arts program, and how it impacts the lives of seniors every week.