Free Street Performances in OKC
On a busy day or night in Downtown Oklahoma City and Bricktown, you'll often be entertained by free street performances, thanks to Out of the Box. In collaboration with Downtown OKC Partnership, ACOKC cultivates street performance art while enhancing the quality of life and cultural atmosphere of Downtown Oklahoma City. The roster includes more than 50 individual performers and groups in a range of acts.
Photos provided by Downtown Oklahoma City Partnership
Interested in becoming an Out of the Box Artist?
If you want to know how you can share your art to the community, contact Art Moves Director & Out of the Box Coordinator Chase Kerby!
Arts Council Oklahoma City (ACOKC) is searching for talented artists from the Black, Indigenous, and People of Color (BIPOC) community to participate in the Fresh
Read More »
The Artisans, Arts Council OKC's group for young professionals, spent a Saturday afternoon creating their own pottery! The young professionals' group enjoyed a hands-on experience
Read More »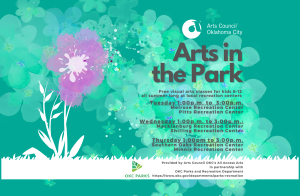 Arts Council OKC is partnering with Oklahoma libraries and recreation centers to bring free arts programming to kids this summer. Neighborhood Arts, a partnership between
Read More »