opening night. december 31. 7pm-midnight. Bicentennial Park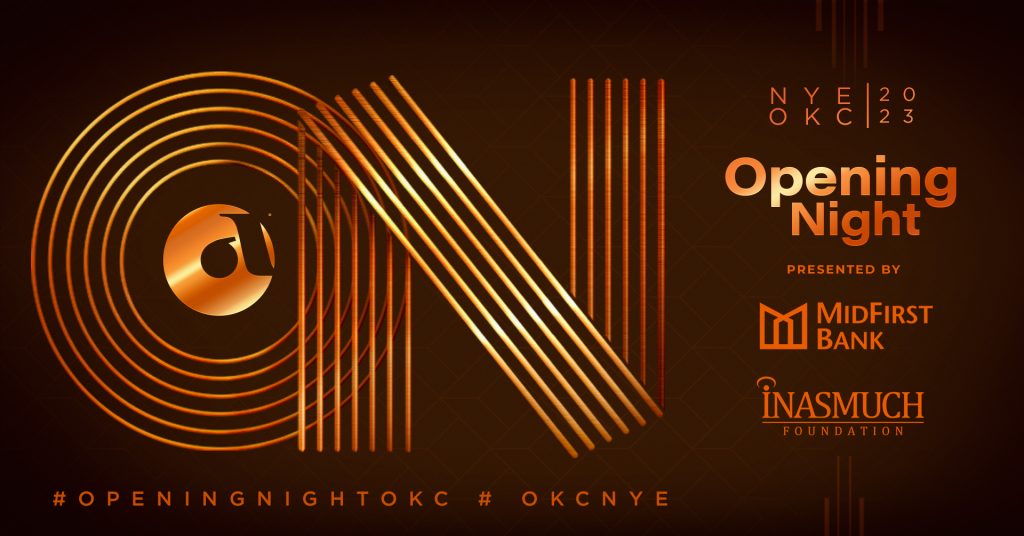 Opening Night takes place at Bicentennial Park in downtown Oklahoma City and is presented by MidFirst Bank and Inasmuch Foundation. Ring in the new year with us!
Opening Night is OKC's favorite family-friendly New Year's Eve celebration produced by Arts Council Oklahoma City. This year marks OKC's 37th Opening Night. The event will take place at Bicentennial Park December 31, 2022. Performers range from Americana/roots rock to jazz, opera, rock 'n' roll, mural artists and more.
Orquesta D'Calle – Looking to add a Latin flair to your New Year's Eve? Orquesta D'Calle is the answer with various styles of commercial Latin music and jazz. 
Bricktown Clowns –  Get your face painted and have a good laugh with the Bricktown Clowns in the Civic Center! 
Opera on Tap –  Since 2017, Opera on Tap has introduced opera to new audiences by way of their themed shows every month, from "gender bender" to "death arias and drinking songs." Their roster consists of all local, trained singers from college and grad school programs, professors, and professionals in the field. 
Edgar Cruz – Ring in the new year with the outstanding acoustic guitar music by Edgar Cruz, featuring original works and plenty of familiar favorites. 
Sarafina Byrd – A local singer/songwriter focusing on Neo-Soul and R&B, mixed with a bit of Jazz. 
Joe Coover – Get ready to suspend your disbelief and be mesmerized by world-traveled magician Joe Coover! 
Perpetual Motion – Modern and aerial dance will be on display as Perpetual Motion takes the stage to showcase their innovative dance styles. 
OKC Improv – Get ready to laugh and have a good time with OKC Improv, OKC's premier showcase of the best local and regional improvisational comedy and theater.
Lacy Saunders & Greg Zink – Swing by the First National Center for the smooth sounds of Lacy Saunders and Greg Zink. With Lacy's unmistakable, soulful voice and Greg's incredible multi-instrumentalism, the music is sure to get you moving!
Shortt Dogg – Put on your dancing shoes! Shortt Dogg is ready to make sure it's a party as we head into 2023 with their vast repertoire of music from the 60's through today. They'll be bringing the energy to the Finale Stage presented by Jackie Cooper BMW alongside the rising of the ball and the fireworks finale. 
Head to the Civic Center Hall of Mirrors Children's Area for entertainment and activities for kids of all ages! 
Fireworks & Finale presented by Jackie Cooper BMW
We'll ring in the New Year with the Finale Count Down to Midnight show sponsored by Jackie Cooper BMW which includes live music by Shortt Dogg, a live countdown to midnight and the ascent of the Rising Ball followed by the best fireworks show in OKC!
Located in Bicentennial Park! 
Newman's Firehouse BBQ – Mouth watering smokin' good BBQ.
Snow S'more – Hand-crafted s'mores and coffee beverages.
Junction Coffee – Fresh coffee, espresso drinks, and hot chocolate.
Yum Pig – The quirky food truck that's serving up pork dishes that will put a smile on your face and love in your tummy
The Brown's Kitchen – Savory comfort dishes with a twist.
Lolli & Pop's Funnel Cakes – Funnel cakes & foot-long corn dogs
Ohmygogi – Korean & Mexican fusion of flavors.
Stacey and Seeds Slappin Soulfood – Loaded nachos, shrimp burger and deep fried catfish.
Soul City Tacos – Indian tacos, strawberry cheesecake tacos & philly steak nachos.
Lucky Lucky Dumpling – Pork and chicken dumplings, eggrolls and pineapple fried rice.
Psycho Taco OKC – Fresh made from scratch premium tacos.
Parked far? No problem! OKC Streetcar will be free of charge on New Year's Eve beginning at 6PM. There are two convenient stops near the main entrance of the Chickasaw Bricktown Ballpark! 
The MAPS 3 Modern Streetcar, known as the Oklahoma City Streetcar or OKC Streetcar, links important districts in and around downtown Oklahoma City. The streetcar will stop at 112 N. Hudson Ave, right next to Festival grounds on the east side. For detailed information, visit the link below.
Opening Night Finale 5K presented by Jackie Cooper BMW
Opening Night Finale 5K is not included in the price of Opening Night wristband. Cost Our celebratory day begins at 3pm with the Finale 5K Race. The course is USATF certified, and the first 200 registrants will receive a limited-edition Finale 5K shirt. Registration is $30 per person before Dec. 13; $35 Dec. 14-30; Race-day cost is $40. All runners will receive an Opening Night wristband.
If you need immediate medical attention, please call 9-1-1. First responders are located on and near Opening Night at all times. If you need information or your are looking for someone, please visit the Headquarters table near the main entrance.