OKC's New Year's Eve Celebration
December 31, 2021
Ring in the New Year at OKC's largest family-friendly New Year's Eve celebration, Opening Night 2022 presented by Midfirst Bank, Inasmuch Foundation, and Gardner Tanenbaum. Wristbands cost just $8 and grant access to live entertainment throughout the evening. This includes music, mural competition, and a children's area with the themed hands-on art projects. Kick start the evening by joining us for the Finale 5K! The race begins at 3:00pm outside Chickasaw Bricktown Ballpark.
Stay tuned for more information regarding your visit and wristband sales!
Finale 5K
Start your new year on the right foot by running in the Finale 5k!
FRESH PAINT: OKCNYE
Presented by the Oklahoma City Thunder, the mural competition is a collaborative project to promote aspiring young artists in the BIPOC community
Event Information
View the performance line-up, learn about the childern's area art projects, and more!

Get Involved
Contact us to learn more about volunteer opportunities for Opening Night!
This event is being used to photograph and record video and film footage in connection with the promotional and publicity of Arts Council Oklahoma City. By your presence in this event, you acknowledge that you have been informed that you may be photographed and recorded as part of the release in home video and/or any media now known or hereafter devised, in perpetuity throughout the universe and the advertising and publicity thereof. Further, by your presence at the event, you grant your permission for your likeness and voice to be included therein without compensation, credit or other consideration. If you do not wish to be photographed, recorded, or appear under these conditions, you should leave this event immediately.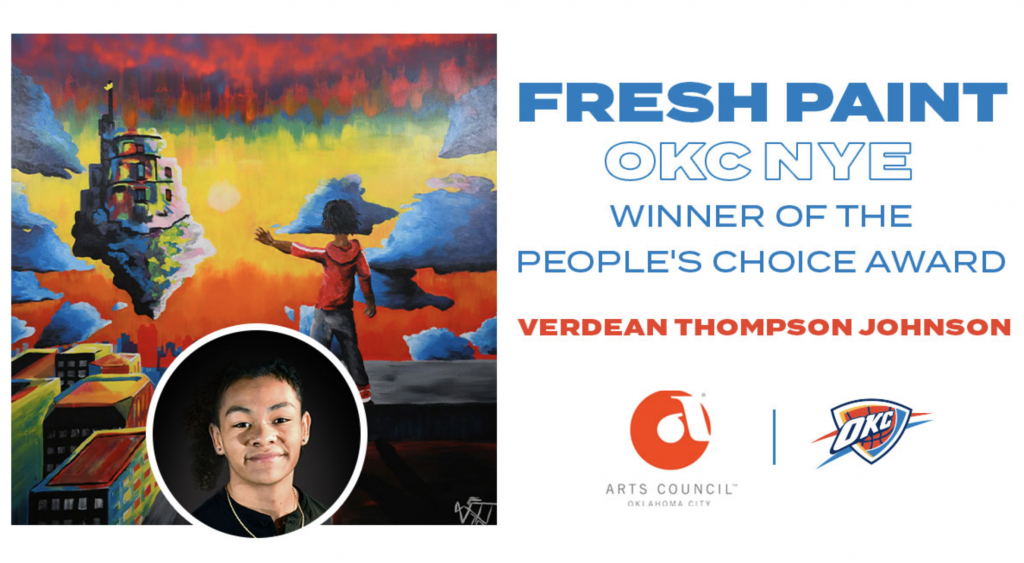 The People's Choice Award for Arts Council OKC's FRESH PAINT: OKC NYE mural competition and the Oklahoma City Thunder grand prize goes to Verdean Thompson
Read More »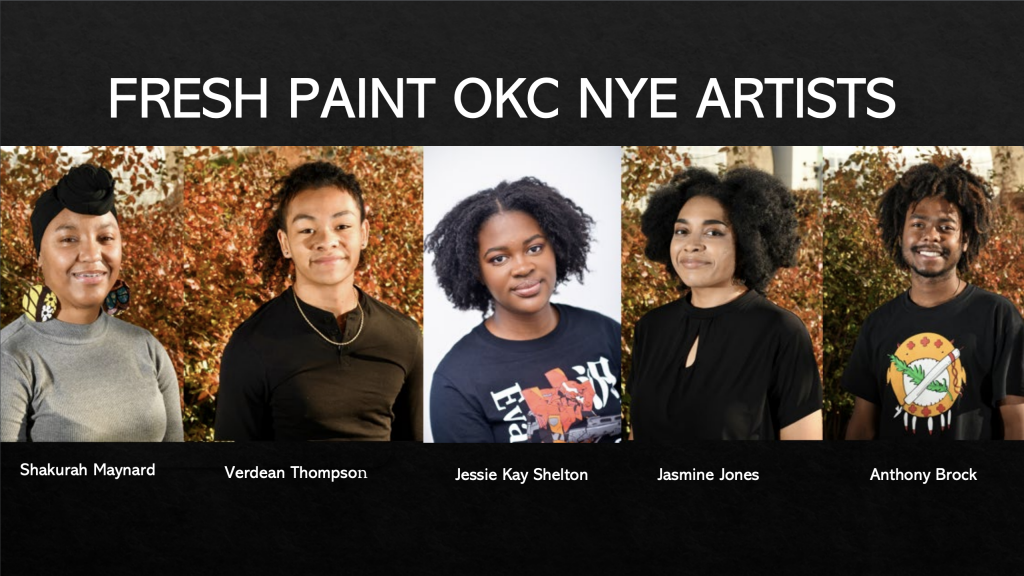 FRESH PAINT: OKC NYE Premieres During Opening Night  New to Arts Council OKC's Opening Night virtual New Year's Eve Celebration, is FRESH PAINT: OKC NYE
Read More »
Opening Night, OKC's New Year's Eve celebration produced by Arts Council Oklahoma City, will not be a ticketed event this year. Instead, the event will
Read More »