OKC's New Year's Eve Celebration
December 31, 2021
Ring in the New Year at OKC's largest family-friendly New Year's Eve celebration, Opening Night 2022, presented by Midfirst Bank, Inasmuch Foundation and Gardner Tanenbaum. The fun starts at 7pm, Dec. 31.

Wristbands cost just $8 in advance and grant access to live entertainment throughout the evening. This includes music, mural competition, and a children's area with themed, hands-on art projects. Everything is in ONE PLACE this year, at the Chickasaw Bricktown Ballpark. You'll find fun for everyone all night long.  
At midnight, our fireworks extravaganza will be an exuberant blend of pyrotechnics, music and celebration. The finale begins about 20 minutes before
midnight with live music from Adam and Kizzie, a light show, police helicopters buzzing the stadium and plenty of excitement. At 11:58, the Rising Ball begins its ascent, and the live countdown begins.   
Kickstart the evening by joining us for the Finale 5K! The race begins at 3pm On Mickey Mantle Drive outside Chickasaw Bricktown Ballpark.
Wrist bands are just $8 per person in advance and go on sale Nov. 26. You'll find them online and at area 7-11 stores.

Finale 5K
Start your new year on the right foot by running in the Finale 5k!
FRESH PAINT: OKCNYE
Presented by the Oklahoma City Thunder, the mural competition is a collaborative project to promote aspiring young artists in the BIPOC community
Event Information
View the performance line-up, learn about the childern's area art projects, and more!

Get Involved
Contact us to learn more about volunteer opportunities for Opening Night!
This event is being used to photograph and record video and film footage in connection with the promotional and publicity of Arts Council Oklahoma City. By your presence in this event, you acknowledge that you have been informed that you may be photographed and recorded as part of the release in home video and/or any media now known or hereafter devised, in perpetuity throughout the universe and the advertising and publicity thereof. Further, by your presence at the event, you grant your permission for your likeness and voice to be included therein without compensation, credit or other consideration. If you do not wish to be photographed, recorded, or appear under these conditions, you should leave this event immediately.
Opening Night, OKC's favorite New Year's Eve celebration produced by Arts Council Oklahoma City (ACOKC), will take place IN PERSON at Chickasaw Bricktown Ballpark Dec.
Read More »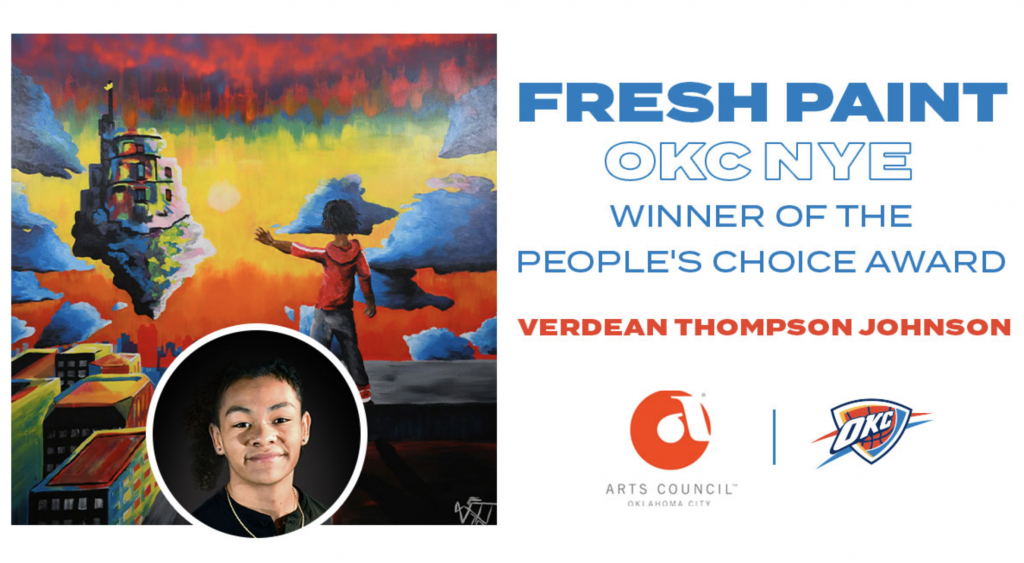 The People's Choice Award for Arts Council OKC's FRESH PAINT: OKC NYE mural competition and the Oklahoma City Thunder grand prize goes to Verdean Thompson
Read More »
USE THE QR CODE TO VOTE OR CLICK THE BUTTON! VOTE HERE FRESH PAINT: OKC NYE During Opening Night Back for its second Opening Night
Read More »