T'was nights after Christmas and all through the town, all the people were huddle inside a nice heated house…. until they remembered it was OPENING NIGHT 2014!!!!!! And what a night it was. As Co-Chair of Opening Night 2014, I couldn't sleep a wink on New Years Eve. I was so excited for the festivities to begin, concerned by the weather that was rolling in, thrilled to be part of such an amazing event, and a little cold…. OK. I was A LOT cold. It was 9:00 AM on Wednesday morning when I met Christina Foss, Director of Communications for the Art's Council of Oklahoma City, down at Bicentennial Park in preparation for media interviews. I thought I was layered and ready to go. That was until I stepped out of my wonderfully warm car. That's when I felt it…… The local media stations had been warning of a cold front that was going to drop our abnormal Dec temps from low 60's to low 20's. And at such a bad time! This storm couldn't have picked the following week to roll in and mess with our weather? As with any good production, the show must go on. And on it did… Festivities kicked off at 4:00 PM with the 2nd Annual Finale 5K. Over 200 amazing runners came out and braved the freezing weather. Not only did they show up, but they looked fantastic! Many clothed in layers (smarties!!!!), tutus, funky wigs, and pajamas. Ready to go and ready to warm up, they were escorted, thanks to our very own (and WONDERFUL, if I may say so) OKC Police Department, and greeted at the finale with fruit and coffee. After a quick cup, or four, of coffee to warm up it was time for our evening events to begin. Did I mention they were ALL indoors?! The performances were genuine, heartfelt and powerful. There wasn't one venue that I walked into that people weren't dancing, singing, or laughing. It was something out of a movie. And just as I thought it couldn't get any better, the clock struck "Fun", and in one gigantic swoop Bicentennial Park was engulfed with "Party Goers".
We had anticipated that our crowd was going to be much smaller due to the weather, but the moment I turned the corner onto Walker and saw the camaraderie within the City, I knew that this was going to be a night to remember.
The Salsa Shakers radiated an energy and style that fostered cheer and excitement throughout all of us. As I stood behind the band, with my fellow Art's Friends singing (YES, I'm going to call it singing!) and dancing, I was taken aback to see the crowd of beautiful people celebrating with us. As the Salsa Shakers tied up the night with an AMAZING version of Marc Anthony's "Vivir Mi Vida", the crowd grew tighter around the Finale Ball. The countdown began, the city lights dimmed, the music faded out and the ball began to rise. With every digit that was shouted out, "10-9-8-7-", the excitement grew until that 3000 lb ball of lights was soaring with the stars. And just like that, every concern and every "shoulda, coulda, woulda" disappeared with each vibrant explosion that painted the sky and was replaced with renewal, clarity and excitement for what 2015 would shower upon us.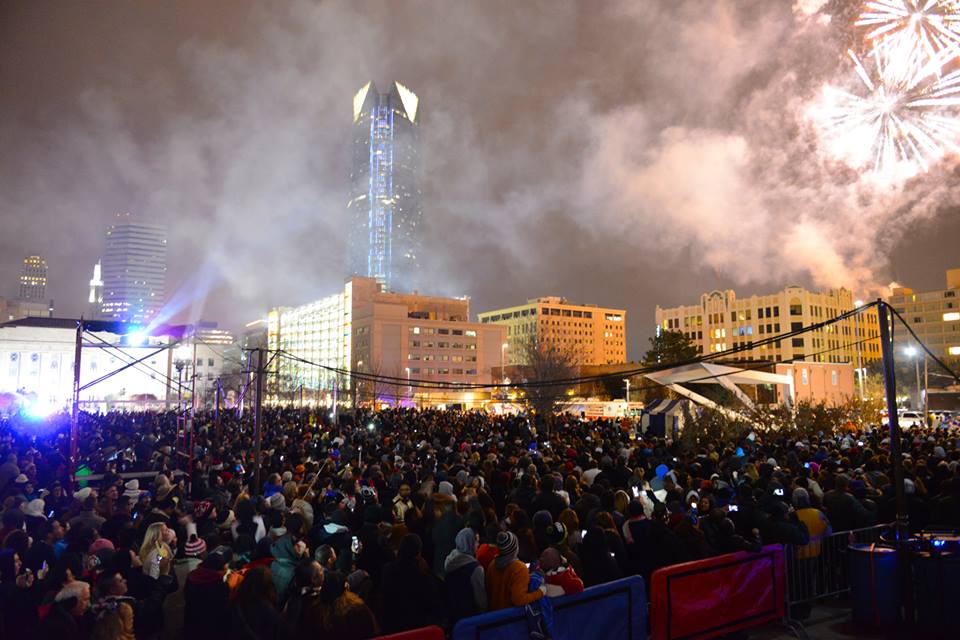 Midnight Friends, my words do not do the event justice. It is truly a memorable event. One that I encourage EVERYONE to attend once. I guarantee you will be back year after year. In hopes of summing this up; Opening Night 2014 showcased the true tone of what Oklahomans are; Resilient and Reliable. That was clearly demonstrated by our members of EMSA, OKC Police Department, OKC Fire Department, and the 400 plus volunteers it takes to run Opening Night. I send a heartfelt gesture of appreciation to each of them. And to all of you that chose to brave the cold and show up to celebrate with us, thank YOU for making Opening Night such a success! Cheers to 2015!