The 2020 Festival has been cancelled
Due to the COVID-19 situation and in the interest of keeping the public safe and healthy, the 2020 Festival of the Arts has been cancelled. In its place, we'll be doing daily livestreams and sharing our favorite Festival memories to our social media platforms. Join us by sharing your Festival of the Arts story with #OKCFA and # ACOKC!
All artists and food vendors have been invited back to participate in Festival 2021
*LIMITED QUANTITY*
2020 Featured Artist Poster – now available!
Order the honorary Festival of the Arts Poster today signed  by Kinetic Sculpture Artist Dean Imel. 
Thank you for supporting Arts Council Oklahoma City! A portion of the proceeds will benefit programming such as Festival of the Arts. 
Scroll down to learn more about the artist!
Watch Live Streams on our Facebook Page
Monday, April 20 – SUnday, April 26
Additional Special Demonstrations and Performances
The Festival of the Arts is a community celebration of the visual, performing and culinary arts, bringing a variety of talented artists together in downtown OKC's Bicentennial Park. Festival has been an OKC tradition since 1967, considered a rite of spring and a signature event for the Arts Council, with an average of 750,000 Festival attendees.
We'll see you at Festival of the Arts 2021!
A Message From the Co-Chairs
On March 17th, we sadly announced the cancelation of Festival 2020. It was absolutely the right decision but we know you share our deep sorrow in seeing this beloved annual tradition cancelled. "Bringing the Arts and the Community Together" has always been Arts Council Oklahoma City's mission. Now, that mission means more than ever. As we approach this next week , what would have been the week of Festival of the Arts 2020, join us and Arts Council Oklahoma City in celebrating past Festival memories, live performances, a look at behind the scenes, and more. We want you to participate! Submit your favorite Festival memory, picture, or both on social media using #OKCFA! We'd love to share your story. A big thank you to all involved: our sponsors, volunteers, artists, and the community. Our mission continues because of you.
We look forward to seeing you again for Festival of the Arts 2021!
Randy Cassimus and Kaycee Nolting
Festival of the Arts 2020 & 2021 Co-Chairs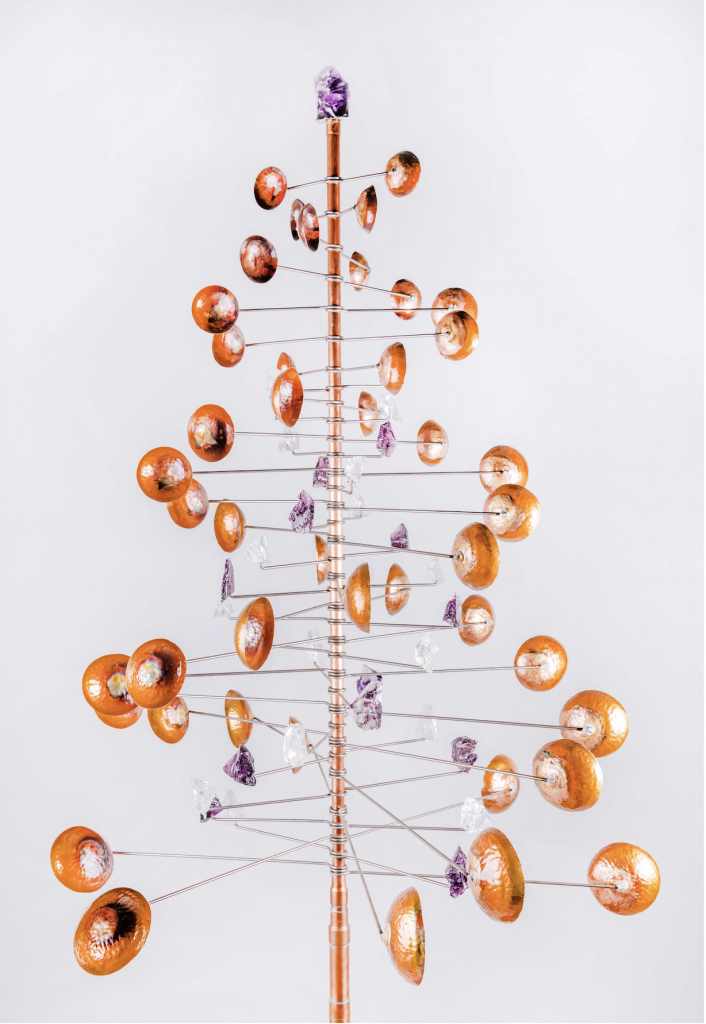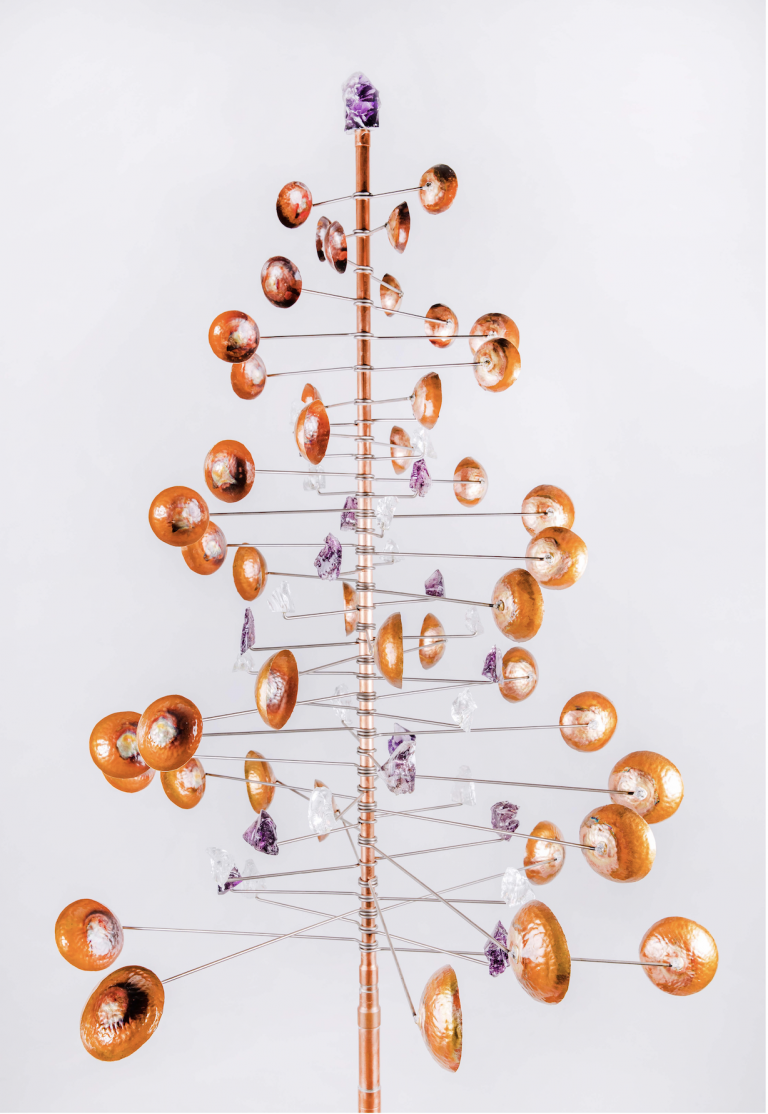 Featured Artist: Dean Imel
Regal by Dean Imel captures the beauty of movement with the majestic colors of violet.  However, movement is the main theme in all of Imel's metalworks. Why movement? Imel's inspirational moment came unexpectedly while watching tv. The program showed an aerial view of an affluent neighborhood in Beverly Hills. The houses were gorgeous and extravagant, however  something stood out even more . The movement from a kinetic sculpture drew Imel's attention and an observation was formed, "Any thing that moves and captures your eye is a temporary focal point. You can't resist it."
A picture's worth a thousand words but an experience is priceless. See his sculptures in action and experience the circular and spiral movements of each one. Imel's sculptures will be on display this year at Festival of the Arts 2020.
Listen to an interview with Dean Imel on the Live Your Purpose Podcast
Festival of the Arts 2020 Sponsors
Allied Steel
Brewer Entertainment, Inc.
Express Employment Professionals International
Hall Estill
ImageNet Consulting
Metropolitan Library System
Parrish DeVaughn
Phillips Murrah, P.C.
Pirate's Alley
Robert A Parman Foundation
S & S Promotions
St. Anthony Hospital
Studio Architecture, P.C.
Medley Material Handling Company
Mood Party Rentals
405 Magazine
Brian & Ronita Alford
Anschutz Foundation
BancFirst
Bank of Oklahoma
Best Western Saddleback Inn
Ronna & Larry Davis
Darr & Collins, LLC
Dolese Bros. Co.
Downtown OKC, Inc.
Christy & Jim Everest
Ed & Gay Kirby Foundation
Macdowell Club of Allied Arts
Marianne's Rentals for Special Events
Mickey Mantle's Steak House
Oklahoma Environmental Management Authority
Party Box
Republic National Distributing Company
Ronald J. Norick Downtown Library
Lance & Cindy Ruffel
Venue Catering Co.
Western Enterprises, Inc.
West Village Apartments
Williams Box Forshee & Bullard, P.C.
84 Hospitality Group
Action Safety Supply Company
Air Comfort Solutions
Allen Contracting, Inc.
American Fire & Safety
American Propane Gas Co.
Anheuser-Busch Sales of Oklahoma
Ben E. Keith Foods
Capital Distributing Company
Claims Management Resources
Crowe & Dunlevy
Diverse CTI
Enable Midstream Partners
Fore Wheeler Golf Carts, LLC
Fred Jones Family Foundation
Debe & Rick Hauschild
Gardner Tanenbaum Holdings
Garman Productions, LLC.
INSURICA
KPMG LLP
Le Fleuriste
Love's Travel Stops & Country Stores
McAffee & Taft
Naifeh Fine Jewelry
Polly & Larry Nichols
OKC Farmer's Market
Oklahoma City Museum of Art
Oklahoma Gazette
Pepsi Bottling Group of Oklahoma City
Triad Design Group
Mary & Tom Walsh
W & W Steel Co.
Support Arts Council Oklahoma City
Festival of the Arts is the year's biggest fundraiser for Arts Council Oklahoma City. While we may be apart right now, our mission is still to bring the arts and the community together, whether that's in person or online. Help us continue to fulfill our mission during these difficult times.
Festival of the Arts 2020 page News
Arts Council Oklahoma City is happy to announce Seth Lewis as the new Festival of the Arts Director. "We are excited to promote someone of
Read More »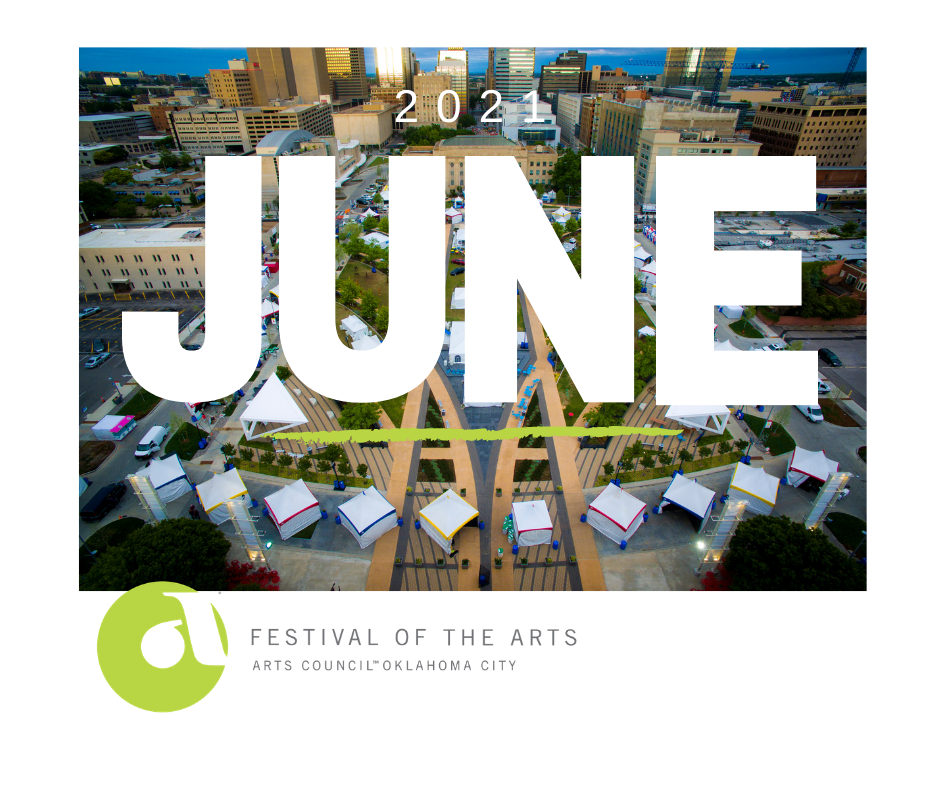 Festival of the Arts Returns – Moving from April to June 2021 After weeks of deliberation and planning with the city and community members, Arts
Read More »
Due to the COVID-19 federal emergency, Arts Council Oklahoma City announces the cancellation of Festival of the Arts 2020. Arts Council Oklahoma City board and
Read More »